- is the Ukrainian part of the international crossing point Orlivka (Ukraine) - Isaccea (Romania).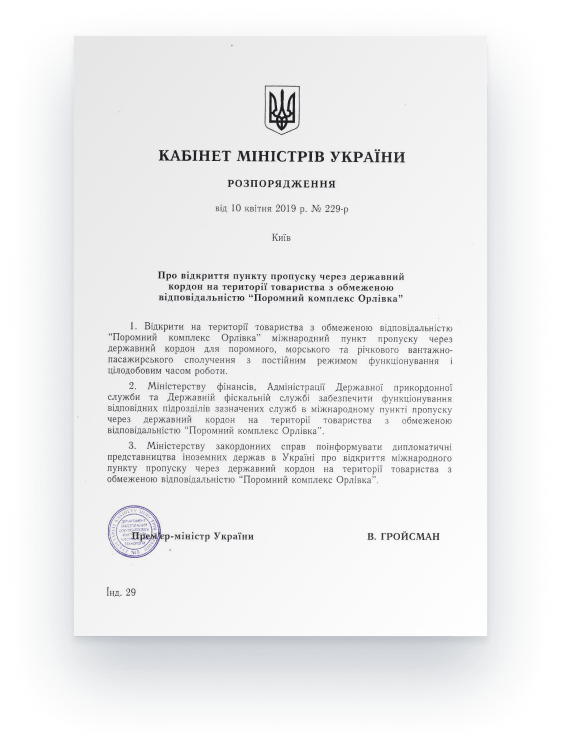 «Ferry Complex Orlivka» is located on the left bank of the Danube River which is 4 km away from the village Orlivka of the Reni District of Odessa region and 2km away from the international highway M-15 (E 87).
It is located on the area of about 6 hectares and has a unique in the Ukrainian part of the Danube River universal hydrotechnical construction for all types of river ferries and sea and river vessels.
Isaccea Ferry Terminal (Romania) is approximately 900 meters away.
The ferry crossing time from the Ukrainian coast to the Romanian is up to 10 minutes.
The ferry complex accepts all types of transport (moto, passenger, freight (TIR), bus, with simultaneous transportation of passengers and pedestrians.
Services provided on the ferry complex::
TIR PARKING
Insurance and brokerage services
«DUTY FREE» Store
Cafe
Branch of the bank «Ukrgasbank»
Petrol station and charging station for electric vehicles
Ferry crossing frequency:
In 2021 - from 06.00 to 00.00 every two or three hours, from 00.00 to 06.00 on filling
From the spring of 2022 it is planned to set the frequency of movement every hour